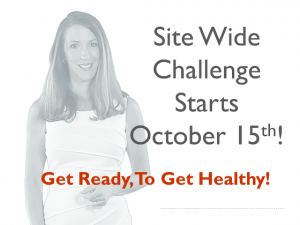 Are You Ready To Take the Challenge? Twice a year I personally lead the Clean & Lean membership in a site wide challenge.The site wide challenge follows the Clean & Lean System program.You'll build your foundation of health, one step at a time. By following the step by step instructional videos, you'll create new healthy habits with the way that you sleep, eat, think and move.

"Are You Ready to Take the Challenge? Kicks Off Oct 15th – Clean and Lean System"

↑ Tweet This

Meal plans, cooking classes, streaming yoga, 750+ recipes, my support AND a community to cheer you on!

Getting healthy with a group is ALWAYS the best approach. Studies show that programs done in a group setting, with online tools, community support and a mobile app offer participants the BEST chance at building habits and finding success with their weight loss goals! WAIT, did I say "mobile app"??

The Clean & Lean System mobile app will go live on October 1st! This app will help bridge the gap between you and the member site. Daily emails and videos will be delivered right to your phone, so you can stay on track with the system AND your goals.

This is an ideal time to get the system and join in the fun! Members participate in the Site Wide challenge at no additional cost!

Get ready, to get healthy! GET THE SYSTEM! 

Learn More: www.CleanAndLeanSystem.com

Angela Pifer, Creator of the Clean & Lean System
Enjoying this content? Sign up for updates... It's FREE!