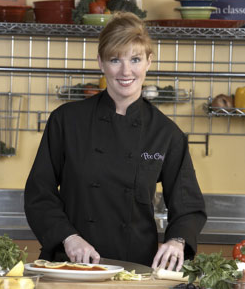 Chef Lynne will be joining me in my kitchen to offer the Clean & Lean Revolution membership cooking classes and quick tips for the kitchen. My goal with this series is to teach you QUICK unique taste combinations that make whole foods cooking a breeze.
You may know Lynne as a PCC Cooks Instructor, Evening Magazine and Gardening with Cisco. She currently leads culinary adventures to Paris!! Lynne Vea is a graduate of the Executive Chef Program at Le Cordon Bleu, Paris. She has been in the restaurant and catering industry for more than 20 years and has worked as an executive chef for several private establishments and as a chef for the Hyatt Hotels in San Francisco.
I have added three of her PCC videos to the site so you can get a 'taste' for what she teaches.
CHEF LYNNE VEA – SALAD DRESSING 101: EASY HOMEMADE VINAIGRETTES

CHEF LYNNE VEA – EASY HOMEMADE PESTO

CHEF LYNNE VEA – MAKE YOUR OWN CHICKEN STOCK FROM SCRATCH

Enjoying this content? Sign up for updates... It's FREE!