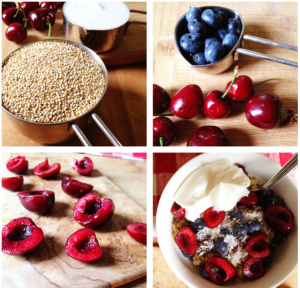 Simply DELICIOUS! Learn how to make a tasty balanced quinoa breakfast!
SERVES 4 (360 calories per serving)
1 cup quinoa
1 cup coconut milk, canned (not boxed)
1/2 cup cold water
1/8 tsp salt
Add per serving:
3 T shredded coconut
1 T real maple syrup to taste
1/4 cup fresh blueberries
5-6 fresh or frozen (thawed) cherries, halved and pitted
3-4 chopped pitted dates
2 T full fat yogurt (coconut, almond or cow) added per serving
INSTRUCTIONS
Combine the coconut milk, quinoa, water, and salt in a medium saucepan and stir to combine. Bring to a boil on medium-high heat with the lid on, once it boils, turn the heat to low, and cook (covered) for 15 minutes.
Once the quinoa is cooked and all the water is absorbed, remove from the heat and fluff with a fork inside the pan.
To serve, scoop one cup of the coconut quinoa into a bowl, add the maple syrup, and stir. Divide the toppings among the four servings: coconut, fruit, and dates and 2 T yogurt/ per serving. Serve warm or at room temperature and enjoy!
Enjoying this content? Sign up for updates... It's FREE!