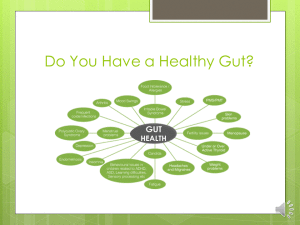 Why do I assess gut health in each and every client that I work with? Because good health begins in the gut. If your gut is healthy and in balance, you whole body will be healthy and in balance. All disease is somehow related to the health of your gut; it is all interconnected – think of a spider web, with your gut health in the center connecting out to every other system and organ in your body.
By focusing on the health of your gut, rebalancing the flora and supporting digestion, most other conditions in the body will come into balance.
If you don't have gut symptoms or a digestive condition, you have a healthy gut, right? Maybe not!
What does heart disease, high cholesterol, depression, brain fog, eczema/psoriasis and other skin conditions, metabolic problems like obesity and diabetes and allergies, asthma and autoimmune conditions (including those affecting the thyroid (Hashimoto's) or joints (rheumatoid arthritis)…etc., have in common? They all started in the gut. Leaky gut and an imbalance in gut flora may manifest as digestive troubles in some people, in many people it does not. It is simply the gateway to other chronic inflammatory conditions.
This is a crucial point to understand: you don't have to have gut symptom to have an imbalanced gut or a leaky gut.
Common causes of leaky gut
Inflammation  (from any source, internal (infection), external (stress, anxiety)) – especially chronic infections
Dysbiosis: parasites, yeast overgrowth, imbalance in gut flora
Medications: Antibiotics, Steroids, (NSAIDS) like ibuprofen and Motrin
Food Allergies
The barrier that lines your GI tract, that is meant to protect you from the outside world and foreign invaders, is one cell layer deep. Even minor inflammation (yes, just a little bit of stress – when chronic) can impair the functionality of this barrier. Once intact particles start to cross the border and enter the blood stream, your body will mount and immune response. This event causes a cascade of signals which evokes inflammation, a buildup of inflammatory markers and more inflammation.
Here's the take home message: Leaky gut and an imbalance in gut flora are common because of a modern lifestyle. If you have a leaky gut, you probably have an imbalance in gut flora, and vice versa. And when your gut flora and gut barrier are impaired, then you also have inflammation. Inflammation is at the root of all conditions and disease.
To adequately address all of these health conditions, you must rebuild healthy gut flora and restore the integrity of your intestinal barrier. This is true, whether you experience digestive issues or not.
Enjoying this content? Sign up for updates... It's FREE!