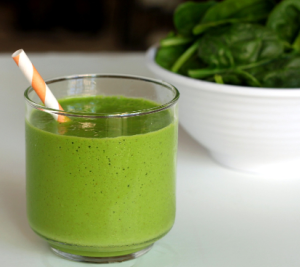 SERVES ONE (360 calories)

Ridiculously Delicious Build-a-Green Smoothie Guide


PROTEIN
Choose One




65 calories

FRUIT
Choose One




52 calories

HEALTHY FAT

Add Avocado 90 calories
AND
Choose One Healthy Fat 115 calories
OR
omit avocado and add two

CHIA & FLAX SEEDS
Choose One

30 calories

GREENS

Add Spinach
AND
One or More

15 calories

BLEND WITH

ADD-ON

Choose One or More

1 scoop whey protein (preferred – this is dairy)

2/3 cup whole fresh organic fruit, berries preferred

1/3 avocado

1/2 T chia seeds

*Handful of spinach, kale, Swiss chard or Mustard Greens

2 cups Filtered water

1/4 to 1 tsp cinnamon, nutmeg, curry or turmeric

1 scoop pea protein (next to best tasting, after whey), rice, hemp protein

2/3 cup frozen organic fruit, berries preferred

Shy T coconut oil

2 tsp ground flax

Handful: watercress, basil, cilantro, parsley, mint or dill

1 tsp fresh grated ginger

Yogurt:

coconut, plain unsweetened or full fat organic cow, goat or sheep

1 medium apple

1 T almond, cashew or walnut butter

1/2 cucumber or bok choy, broccoli, cauliflower, carrot, etc.

Kefir:

coconut, plain unsweetened or full fat organic cow, goat or sheep:

1 small pear

Shy T flax oil or extra virgin olive oil

*Whole Foods sells frozen, organic loose leaf spinach, kale, Swiss chard and mustard greens.

These are prewashed, stemmed and prepped!
HOW TO MODIFY THE CALORIES
If you need to further modify these smoothies to meet you individual calorie needs (to increase calories, not decrease calories – no one should drop below 1200 calories), feel free to add the following to your smoothie: instead of blending your smoothie with water, blend it with 1 cup unsweetened almond milk (averages 30-40 calories) or 1 cup coconut water, plain (averages 145 calories). I have included the average calories for the recommend portion at the top of each column. You can further adjust your smoothie calorie load using this information as well.
CAN I ADD….?
These smoothies do taste green and are meant to offer a power punch of bioactive compounds and phytonutrients. If you MUST add a little banana, you can. 1/3 of a banana is around 35 calories. Simply add 1/3 of banana to the recipe. Do not adjust the other ingredients.
Explore more of the Food Plan