Why make a meal once, when you could make 6-8 meals at one time! I have created three large batch (healthy!) recipes that make 6-8 servings each.  As always, substitutions and suggestions are offered to customize this to your eating preferences.
Before dividing and freezing the portions, make sure that you allow it to cool overnight in the refrigerator. You may freeze single servings in freezer Ziploc bags or in glass dishes (allowing at least 1-2″ space from the top). I prefer to freeze in Ziploc freezer bags because they lie flat in stacks; allowing me to pack away more freezer meals.
Cook one of these versatile recipes and enjoy the benefits the rest of the week, or month. To further support your efforts to eat healthy during the busy holidays, I have used the quickest prep ingredients that would hold up well in these recipes. Minced garlic from a jar and frozen cubed butternut squash will make your prep work faster.
You will also find a Slow Cooker Shredded Chicken Recipe (options included if you don't have a slow cooker). You can make up a large batch of shredded chicken and freeze in single servings to use in some of the recipes listed above and other recipes that you may find on your own. Having cooked protein on hands, pretty much guarantees that you will be able to make a healthy meal in around 10 minutes. Simply sauté up a healthy vegetable in coconut oil or olive oil, add precooked quinoa and shredded chicken. Spice and season to taste and you have a healthy, balanced meal!
If you like these recipes, become a member of the Clean & Lean Revolution! There are 400+ healthy meals AND more large batch cooking recipes on the site!
KALE & ROASTED VEGETABLE SOUP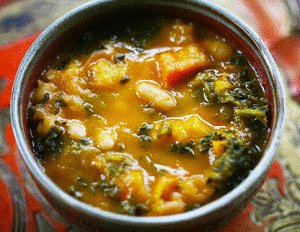 Serves 6 (420 calorie portions)
6 medium carrots, peeled and quartered lengthwise
4 large tomatoes, quartered
2 large onion, cut into 4 or 5 slices
1.5, 12 oz packages of frozen cubed butternut (18 oz total)
4 T garlic, minced from jar
2 Tbsp olive oil
12 cups or more of vegetable or chicken broth
6 cups of finely chopped kale
4 large fresh thyme sprigs
2 bay leaf
2, 15 oz can of Great Northern white beans, drained
*optional, you can add a 1 T curry and 1/8 tsp nutmeg
*optional, can add 1 cup canned coconut milk (not light, not boxed coconut milk). With this added, recipe makes 7 servings
INSTRUCTIONS
Place frozen squash in bowl and set out to defrost at room temperature.
Preheat oven to 400°F (reduce heat by 25°F if using convection oven). Brush rimmed baking sheet with a thin coat of olive oil. Arrange carrots, squash, tomatoes, onion, and garlic on sheet. Drizzle with more olive oil. Sprinkle with salt and pepper. Toss to coat. Roast vegetables until they are brown and tender, stirring occasionally, about 45 minutes.
Cut carrots into 1/2 inch pieces; set aside.
In a food processor or blender, place garlic, tomatoes and onion; puree until almost smooth. Pour 1/2 cup broth onto the baking sheet; scrape up any browned bits. Transfer broth and vegetable puree to large pot. Add broth, kale, thyme and bay leaf to pot. Bring to boil. Reduce heat. Simmer uncovered until kale is tender, about 30 minutes.
Add carrots, beans, and squash to soup. Simmer 20 minutes to blend flavors (if adding coconut milk, add with carrots, beans and squash). Add additional spices, herbs and season with salt and pepper as needed. Discard thyme sprigs and bay leaf.
SPICED RED LENTIL, TOMATO AND GREENS SOUP
Serves 8 (420 calories per serving)
 4.5 T virgin coconut oil
4 T garlic, minced jarred
2 sweet onion, diced
6 celery stalks, diced
2 bay leaf
1 T ground cumin
1 T chili powder
1.5 tsp ground coriander
1.5 tsp paprika
1.5 tsp cayenne pepper
2, 14-oz can diced tomatoes
12 cups vegetable broth, more if desired
2.5 cup red lentils, rinsed and drained
3 cups torn spinach or kale (or combo)
Sea salt and pepper to taste
8 oz chicken breast, roasted, shredded OR 1.5 cups white beans, canned, rinsed, drained
INSTRUCTIONS
In a large pot, sauté the onion and garlic in coconut oil for about 5-6 minutes over medium heat. Add in the celery and sauté for a few minutes more.
Stir in the bay leaf and the spices (cumin, chili powder, coriander, paprika, cayenne).
Stir in the can of tomatoes (including juice), broth, and lentils. Bring to a boil, reduce heat, and then simmer, uncovered, for about 20-25 minutes, until lentils are tender and fluffy. Stir in the cooked shredded chicken OR beans the last ten minutes of cooking. Discard bay leaf.
Stir in spinach and season to taste adding more spices if you wish.
MUSHROOM AND BLACK BEAN TORTILLA CASSEROLE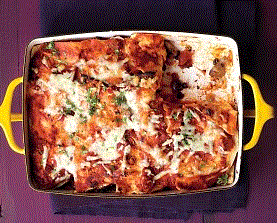 Serves 8 (420 calories per serving)
4 T extra-virgin olive oil
1 pound button mushrooms, trimmed and quartered
2 medium bell pepper, chopped
4 T garlic, minced jarred
1 teaspoon cayenne pepper (or, to taste)
Coarse salt and ground pepper
2 cups fresh spinach
1 can (15.5 ounces) black beans, rinsed and drained
10 corn tortillas, warmed and halved
2 cups medium or hot organic salsa
1.5 cup aged white cheddar cheese (or use 1.5 cups dairy free ricotta)
12 oz chicken breast, roasted, shredded
INSTRUCTIONS
Preheat oven to 400 degrees. In a large skillet, heat oil over medium-high. Add mushrooms and peppers and cook, stirring often, until mushrooms are browned, 7 minutes. Add garlic and cayenne; season with salt and pepper. Add black beans and cooked shredded chicken and stir to combine. Cook until beans are warmed through, 2 minutes. Remove from heat.
Arrange 5 tortilla halves in a large rectangle baking dish. Top with half the bean mixture and 1/2 cup salsa, a layer of 1/2 the spinach and then sprinkle with one-third the cheese. Repeat with another layer of tortilla halves, bean mixture, salsa, spinach and cheese. Top with remaining tortilla halves, salsa, and cheese. Cover with foil and bake until center is hot and cheese melts, 10-15 minutes. Uncover and bake until cheese is bubbling, 5 minutes.
SLOW COOKER SHREDDED CHICKEN
6 -12 organic, free range chicken breast (use as many as you want)
1/2 cup chicken broth, low sodium
1/2 teaspoon sea salt
1/2 teaspoon black pepper
1/2 teaspoon garlic powder or minced garlic
INSTRUCTIONS
Place the chicken breasts in the crock pot, Mix water and spices together and pour over the chicken.
Cook on the low setting for 8-10 hours.
Remove chicken breasts, shred or pull the meat from bones, removing skin (it should all fall off easily at this point anyway)
Use fresh, in a recipe or place meat in individual freezer bags or containers and freeze until needed for recipes.
Defrost and add to any recipes that call for cooked chicken.
NO SLOW COOKER?
STOVE TOP:
Place 4-5 chicken breasts in a large skillet on the stovetop. Add 1 cup of broth and seasoning from recipe above. Bring to a boil, reduce to medium and let simmer covered for 15-20 minutes (you may need to add more broth) .
Then turn to medium low and cook for 40 more minutes, until it can be shredded easily.
OVEN:
3 to 4 pounds boneless skinless chicken breasts
Olive oil
1 large onion, diced
2 (or more) cloves garlic, minced
2 teaspoons smoked paprika
2 teaspoons salt
Freshly ground black pepper
Heat the oven to 325°F. Remove the chicken from its packaging and pat it dry.
In a Dutch oven or heavy pot (with a lid) heat a drizzle of olive oil over medium heat. Cook the onion and garlic for 5 minutes or until quite soft. Add the smoked paprka and stir. Add the chicken piece by piece, stirring to mix well with the onion. Stir in the salt and a few generous grinds of black pepper.  Turn off the heat.
Cover the pot with a heavy lid and put in the oven. Bake, covered, for 90 minutes, or until the chicken is extremely tender. Remove from the oven and use a slotted spoon to remove the chicken to a large bowl. Use two forks to shred the chicken finely.
Enjoying this content? Sign up for updates... It's FREE!