May I just say… I can't believe how quickly 2014 is wrapping up! Literally, Christmas is right around the corner! I am looking forward to the holiday AND the healthy regroup that the new year brings.

The next All-Site Challenge kicks off on January 21st. Leading into the All-Site Challenge, we are going to do a 14 Day Detox. The 14 Day Detox kicks off January 7th.

Let's call this the New Year's Resolution (Get My Health In Gear) Wellness Program.

If you want to participate in the 14 Day Detox, you can purchase your detox kit using the Order here button below. Each kit includes 2 meal-replacement shakes per day and a very robust formulation of powerhouse nutrients to support a safe and balanced detoxification process that is comfortable and exceptionally effective.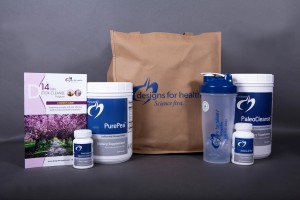 One Kit Contains:
PaleoCleanse™ Powder: Detox Support Supplement
PurePea™ Unflavored: Protein Powder
Amino-D-Tox™ 90 capsules: Support Phase II Detoxification
Hydrolyzyme™ 60 capsules: Digestive Enzyme Formula
1 – 14 Day Detox/Cleanse Patient Guide
Blender bottle
Reusable bag made from recyclable materials
I will personally send you detailed instructions on how to use this kit in conjunction with the Clean & Lean System!
Clean and Lean System Members get 30% off retail!
97.00 + 8.00 Flat Rate Shipping
Explore more