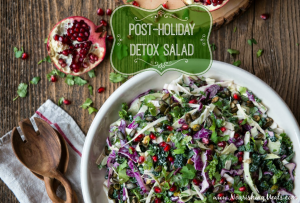 From my friends over at NourishingMeals.com, this salad will help you get back on track after a holiday weekend of sugar and starches.
Post-Holiday Detox Salad
This recipe tastes great the day it is made, plus will last a few days in your refrigerator with the dressing on it. I use pepitas (shelled green pumpkin seeds) in this recipe. You should be able to find them in the bulk food section of your local health food store. You can also substitute them with toasted sunflower seeds, or omit them altogether.
Salad:
4 cups thinly sliced green cabbage
4 cups thinly sliced red cabbage
4 cups thinly sliced kale
½ cup chopped parsley
½ cup chopped cilantro
½ cup toasted pumpkin seeds (pepitas)
arils from 1 small pomegranate
Dressing:
6 tablespoons extra virgin olive oil
4 tablespoons freshly squeezed lime juice
2 to 3 tablespoons water
1 tablespoon raw almond butter, cashew butter, or tahini
1 garlic clove, peeled
½-inch piece fresh ginger
½ teaspoon sea salt
Place all of the ingredients for the salad into a large bowl and toss together.
To make the dressing, add all ingredients to a blender and blend until smooth. Pour dressing over salad and toss together. Serve.
Note: to toast pumpkin seeds, heat a stainless steel skillet over medium heat. Add the seeds and keep them moving in the pan. They should puff up and become slightly golden. This should take about 2 to 3 minutes. Remove the pumpkin seeds from the pan and place them onto a plate to cool. Source: www.NourishingMeals.com
Enjoying this content? Sign up for updates... It's FREE!