TWO MINUTE HEALTH BUZZ
Two Minute Health Buzz video, offering inspiration and clarity with a dash of common sense.
Why I Do Not Recommend Food Intolerance "Sensitivity" Testing to My SIBO Patients
I have had so many new patients call me after they have been struggling to pull the foods listed on a food sensitivity panel – trying to figure out what they can eat. They come into my office and show me their lab, which is covered in red lines showing reactions to just about everything. What they always say to me is, "The test shows that I am reacting to everything that I am eating."
Is food Intolerance or "sensitivity" testing able to show you what you are really reacting to? Join SIBO Guru, Functional Medicine Nutritionist Angela Pifer as she discusses the validity of these tests and why, if you have SIBO, this test isn't worth running in the first place.
Watch the Video: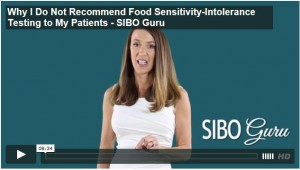 Explore more